Publishing content on LinkedIn is a great way to gain traction for your business and generate leads, but sometimes even the most informative articles don't receive enough visibility.
When your posts gain more views, it inspires shares, comments and likes, allowing your piece to reach a larger audience and work for you.
That said, here are three helpful tips for generating more views on your posts, and a case study on how I used these tips to increase the amount of views, I received on my content within hours of publication:
1. Discuss Relevant Topics and Use an Engaging Title
Research your readership and analyze the problems of your audience. A high-quality article will highlight the needs of your viewers provide a solution. Before brainstorming new topics, check current events. What major changes or occurrences are happening in the days surrounding the publication of your article? Focus on content centered on a topic that is both important and relevant to your readers.
Quantify the information and advice discussed in your post. Include tangible goals in your writing that make your instructions practical and immediately applicable.
When writing your title, use specific action words such as:
"How to ____"
"Why You Can ____ "
"3 Ways to ____".
These simple but useful keywords help gain more viewership for your article and allow your readers to understand at a glance the topic of your writing. However, be careful of abusing buzzwords. Overusing professional jargon can make your piece seem inauthentic.
2. Share! Share! Share! + Comment!!
Join relevant groups and share your article in each one. Use other online platforms such as Facebook and Twitter to increase exposure, however, don't spam your audience. There's no shame in reusing content, but try to keep the wording fresh. Share your content on multiple platforms at different times throughout the day to avoid supersaturating your network.
In addition to sharing, engage your audience. I have noticed in the past that many users fail to reply to comments or engage those who are replying to their published posts. Do not let hanging comments lose momentum! The interactive comment sections is a great opportunity for the author to share more expertise and keep their post on top of the LinkedIn feed, which will greatly increase visibility.
3. Finish With a Compelling "Call-to-Action"
The "Call-to-Action" is pretty much exactly as it sounds. CTAs prompt the reader to take action, and are most often at the end of the article. A compelling CTA has three primary components:
A copy that makes people curious such as; "Learn More___" or "Get Started At ___". Aim to make your CTA something your reader can't help but click.
Clarity! Make sure people know exactly what they are getting into by responding to your invitation. Be straightforward.
A specific page aligned with your content and CTA. The most effective CTA links redirect the reader to a dedicated landing page.
Driving your online traffic to the page set-up to schedule an appoitnment, download your free e-book or sign up for your webinar further engages them with your product or service and creates a clear purpose for your CTA.
Now that you know three ways to get your LinkedIn Post quickly gain over 1,000 views, you may be wondering… Do these tips actually work?
Well, I decided to test them myself: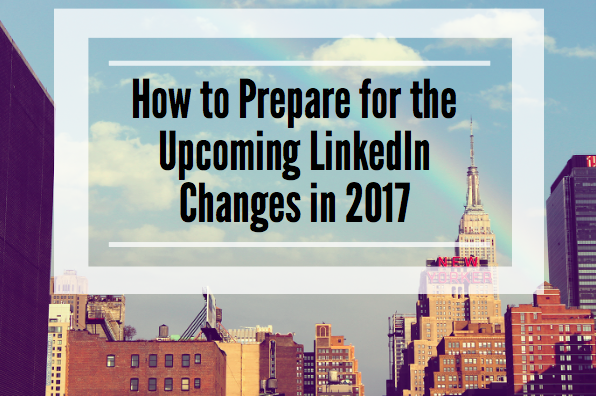 For my first LinkedIn article of this year, I published a piece informing my connections on How to Prepare for the Upcoming LinkedIn Changes in 2017. This article utilized each pro-tip mentioned in this article:
The compelling title successfully explains the relevant topic that would be discussed in the piece. Also, I used simple but effective keywords to encourage the reader to learn about the new LinkedIn update without seeming cliché.

Within the first three days, the post had already generated 1,270 views, and did not seem to be losing momentum anytime soon.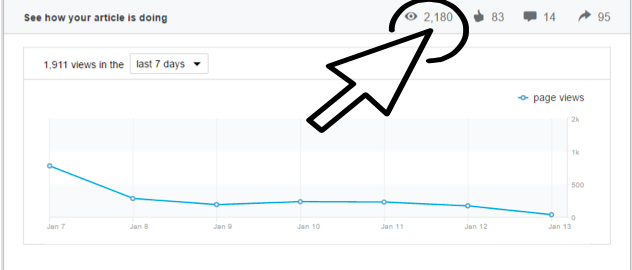 Less than 10 days after publication, the post had almost doubled in viewership, gaining 2,180 views (and 90+ shares).
At the end of the piece, a Call-to-Action is issued towards to reader inviting them to learn more about the chosen topic on our webinar. This simple but effective CTA resulted in 103+ registrations for the advertised webinar and 55+ attendees.
As you can see, by following these tips I was able to successfully increase my views and online interactions, and gain several new clients from the webinar – which means that you can do the same.
---
Are you having some challenges with LinkedIn? Maybe you are not sure what to do with your LinkedIn connections or wondering how to create engaging content? Have you learned how to navigate the new LinkedIn platform? To help answer these questions and more, I am hosting another FREE Webinar on Making LinkedIn Work For Me in 2017 on February 23rd at 12:30 p.m. EST.
If you are not able to make it, register anyway, I will email you the recording which will be available for one week after the webinar.