For a business owner, LinkedIn is one of the best platforms to connect with other industry leaders to build new relationships and grow your business! Every second, two professionals create a new account on the site. Likewise, 72% of B2B Buyers use it to share important information.
One of the strategies that a lot of people are not taking advantage of is the power of strategic partnership. With access to over 467+ million members, you can build a network of referral partners or strategic partners who will consistently send you strong referrals.
Here's an example: Andy S. owns a Commercial Moving Company in Brooklyn NY. He has been generating some business, but mostly from referrals from past customers and a small amount of clients from his networking group. With the busy season around the corner, Andy is looking to rapidly increase his pipeline by using LinkedIn. To accomplish his goal, he reaches out to commercial real estate firms to develop a strategic partnership with the brokers and create a consistent flow of referrals.
What does this partnership look like?
I'll show you! Here are some tips and examples showing you exactly how to maximize LinkedIn for strategic partnership opportunities:
Focus on locating your best referral source
The benefit of LinkedIn is that it gives you the necessary information to make the right choice in a potential partner. Identify the components and apply these demographics to your network. Search for potential new connections by isolating their industry, position or location through LinkedIn's search filters.
Use the details of a potential partner's profile to answer the important questions, such as:
Could we build a partnership that is scalable?
Do we have a similar customer base?
Could we collectively benefit and create a win-win situation for our clients? 
LinkedIn Groups are a great way to find or meet these potential referral sources. Once you've found a good fit, join a group that they are in and use this mutual link to start conversation.
For example, when Andy of Andy's Moving Company is searching for groups to join to connect to a real estate broker, he may want to considers these ones:



Engage with them in the group then move it to a private message. When it feels natural, ask if they would be open to a call.
Know What to Say in the First Outreach
The hardest part about reaching out to a potential client or partner is knowing exactly what to say to make them want to continue the conversation. Crafting the right introductory message can be a tricky task. The goal is to begin effective correspondence without sounding like you are giving a sales pitch. Avoid being generic by customizing the message with their information. Never invite them to "check out your product" or even "follow your page." Make it personal by adding details from their profile when you gently inviting them to connect.
Imagine Andy from Andy's Moving Company was reaching out to a commercial real estate broker named Barry, he would want to say something like: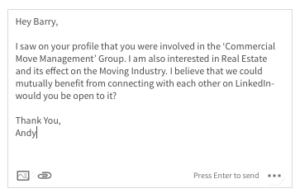 Leverage Content to Share Your Expertise
Use content to get the most of your new connection. Share posts and promotions of your partner to bring awareness from your followers to their company.
Creating a content as a team is a great way to promote your group endeavors. Collaborating on an article showcases each person's expertise while promoting your joint efforts.
For example, Andy and Barry from the previous examples could write LinkedIn blog articles such as:
Going Near or Far, Here's How to Get the Best 'Bang for Your Buck' When Using A Moving Company
I've Seen it All: Moving Companies from a Realtor's Perspective
5 Questions to Ask Yourself When Choosing a Realtor…and then a Moving Company
It's Giver's Gain World
92% of consumers trust peer or personal recommendations over advertising. A personal referral is the best way to build your profile and establish essential credibility on LinkedIn.
Once you've had a chance to work together, request a strong recommendation from your partner and write one for them as well. Refer to your joint service in your recommendation to further promote your efforts. Through mutual online "vouching" you can both promote each other and reinforce dependability and integrity to clients.
Barry the real estate broker might write something for Andy like:

LinkedIn is one of the strongest sites to find a beneficial strategic business alliance. Use the site to your advantage in order to locate and develop relationships with your potential partners.
Having some challenges with LinkedIn? No time to use the platform effectively? Maybe you are not sure what to do with your LinkedIn connections or wondering how to develop strategic partnerships? To help answer these questions and more, I am hosting a FREE Webinar on Earn More with LinkedIn in 2017.
If you are not able to make it, register anyway, I will email you the recording which will be available for one week after the webinar.
Written by Julbert. A and Meghan S.